SUPPLY Project
Strengthening voluntary non-remunerated plasma collection capacity in Europe
Our Partners
About Us
What is SUPPLY?
SUPPLY is a project co-funded by the European Union's EU4Health Programme that aims to increase and strengthen the resilience of plasma collection in the EU to enable a stable and adequate supply of Plasma-derived medicinal products (PDMPs). The entire plasma chain is being assessed – from plasma donor recruitment, retention, and health, through plasma collection and processing, to demand and use of PDMPs.
How will we achieve that?
A substantial part of plasma collection in the EU is conducted by the non-profit blood establishments (BEs) from voluntary non-remunerated donors, but not at the level needed. This project will focus on how BEs can improve and build up voluntary non-renumerated plasma collection programmes and make them more efficient. Emphasis will be paid to maintaining donor safety in a way that benefits donor health, but also obtaining the plasma quality needed for production of medicinal products.
How you can help currently…
If you are a blood establishment staff member, please help ensure a response is received from your organisation to our survey on the measures taken for the protection of the health of plasma donors in different countries and organisations, available here: https://lnkd.in/dajEG5Ef
And the European legal landscape in all that?
Legal frameworks for plasma collection and processing and PDMPs maangement vary widely across different EU Member States. The SUPPLY project proposes to evaluate these legal frameworks and policies on plasma collection and tender models and eventually formulate new recommendations for the development of common EU policies and legal frameworks. These recommendations would support national and EU efforts to achieve a higher degree of strategic independence from non-EU sources in the collection of plasma as well as its usage to create the derived medicinal products (PDMPs).
What other outcomes are we striving for?
The main project outcome is a set of recommendations and guidance for blood establishments (BEs), competent authorities, medical societies and other professional stakeholders to support them in being able to increase plasma collection in the EU by the public health sector and achieve optimal availability of plasma medicines for patients both in a general situation as well as in times of crises. This project would therefore critically contribute to the EU becoming more strategically independent in its need for plasma medicines.
Who are we?
The SUPPLY project, led by the European Blood Alliance, will be carried out by a large European consortium of 13 Beneficiaries and 6 Associated Partners with broad and complementary expertise relating to all aspects of blood and plasma collection, processing, and medicinal use.
There will be a special session on SUPPLY at the 5th European Conference on Donor Health and Management, taking place on 7-9 September 2023, in Vienna, Austria. Along with a panel discussion with many of our Work Package (WP) Leaders, first results from our SUPPLY...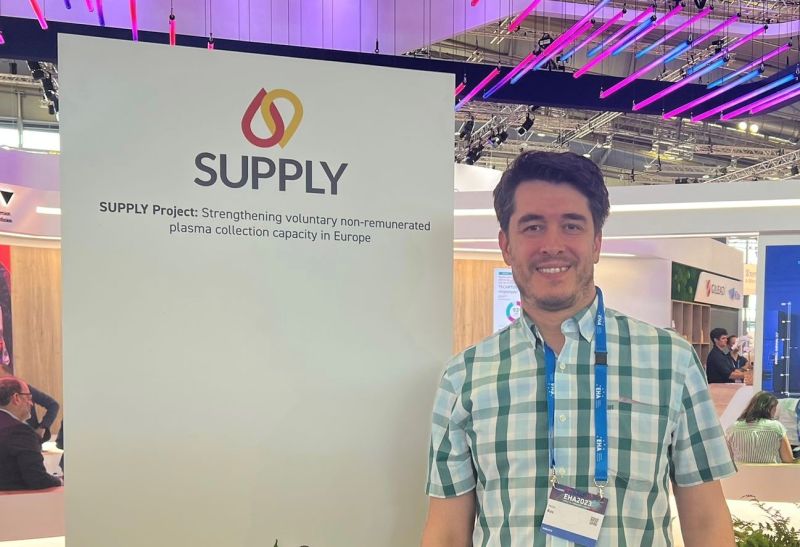 SUPPLY Project was offered the opportunity by European Hematology Association to be present in their prominent EHA2023 Congress as part of EHA's not-for-profit international collaborations. It was a perfect setting for spreading awareness and visibility of SUPPLY's...